Old things gain second life
A community's approach to circular economy
By Danielle Pycior 
Published December 2021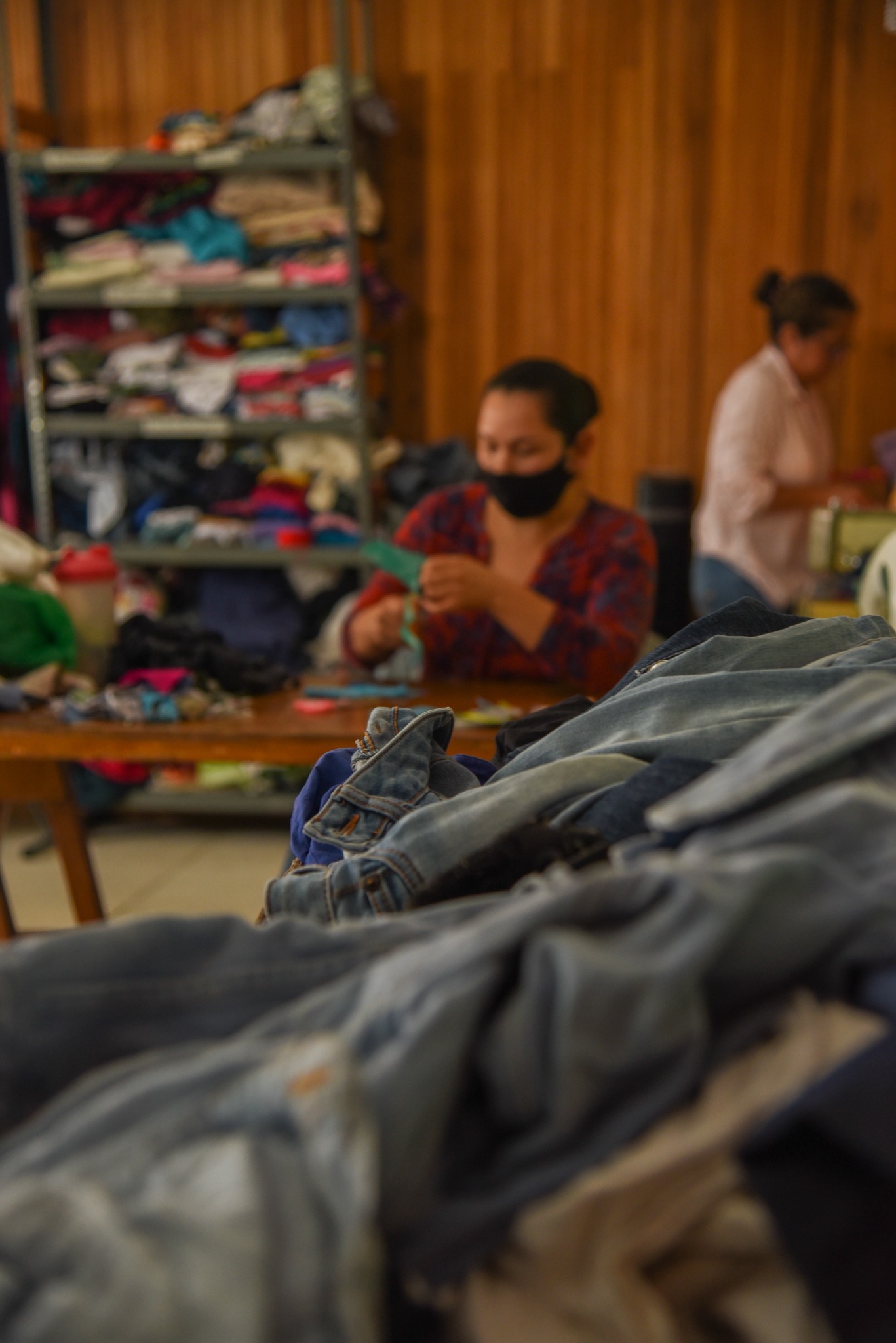 Monteverde, CR 􏰄 -  In a small mountain town perched 4,000 feet above sea level, a group of women have been working on a project outside the traditional system of clothing production. La Tilichera, which means junk or things in Spanish, is a project that started with the mission of extending life.

Since the 2000s, fashion production has doubled and will likely triple by 2050. 90 percent of that clothing, most of which is made from nonrenewable resources, ends its life in a landfill with less than one percent being recycled into new clothing. 
The fashion industry's linear economic model and consumer norms have resulted in a culture of fast fashion that isn't sustainable and continues to pollute water, land, air and communities.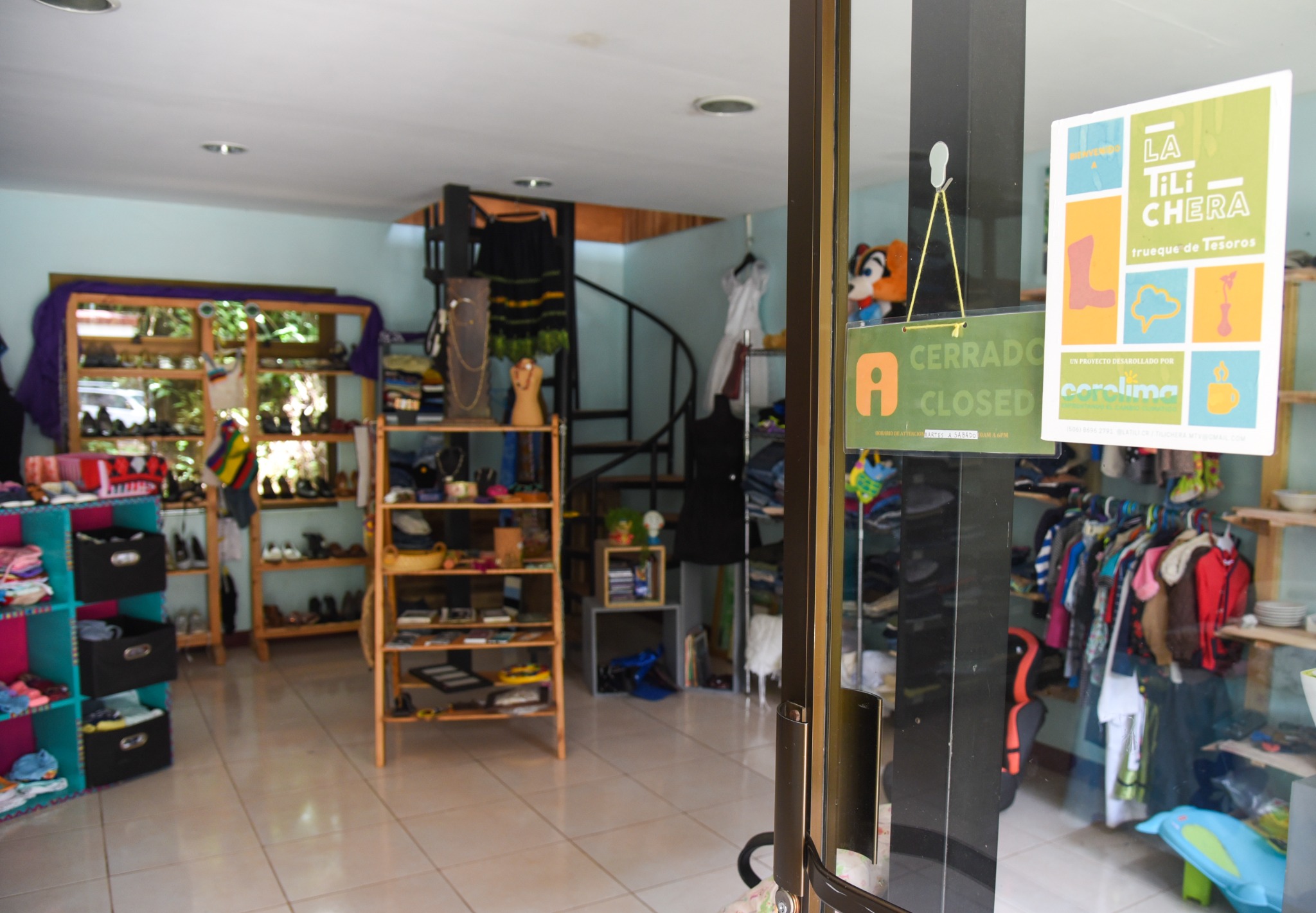 Monteverde, Costa Rica, is a town that has historically responded to crises with solutions. In the summer of 2020 when the world became aware of the pandemic's severity and borders began to close, there were no longer any tourists arriving to pay for goods and services and a majority of people in Monteverde lost their jobs and incomes.
Corclima, a local group founded on the mission of creating and promoting adaptation to climate change, had a solution for a handful of moms who couldn't afford to send their kids to school anymore. After the first meeting in July, the Tilichera project began. 
Those eight moms would work a certain amount of hours each week depending on how many kids they had in exchange for tuition waivers to the Monteverde Friends School.
The store operates on a trade-only system. When someone brings in items, they receive points in a certain category – silver, gold or platinum. The categories are based on the quality of the item. For example, leather would receive higher points than plastic leather. The project has facilitated trading washing machines, kitchen sinks, computers, printers and refrigerators – all without any money involved.
"At the Tilichera, you have to stop thinking about the inventory in the same way," said Shannon Smith, administrator of Tilichera and owner of local restaurant TACO TACO. "It doesn't matter how many points we have in the store, it matters how many trades are  made. How many people are actually being able to participate, and of those items what are the items that people are most likely to bring in and how can we benefit from those?"
At the beginning of the project, it was all donations. Now, people receive points for what they bring. They can either use the points that day, save them as credit or give them to someone else. A few of the women who run the shop often give extra points left from tourists or donations to families in the community.
"Monteverde is a community that takes care of each other," said Silvia Elizondo, one of the moms who keeps the shop going. "This project benefits everyone in this area."
Up a small hill, shaded by tall trees, sit three buildings: El Banco Costa Rica, an abandoned bar and the Tilichera in the right back corner. A sign blinks abierto, or open, in little red dots in the front window and there's a kind, welcoming feel that spreads from the warm smiles of the women who run the shop. The store is filled with an assortment of daily life belongings – jeans, shirts, tiny human shoes, books – all cast-out items awaiting a new home.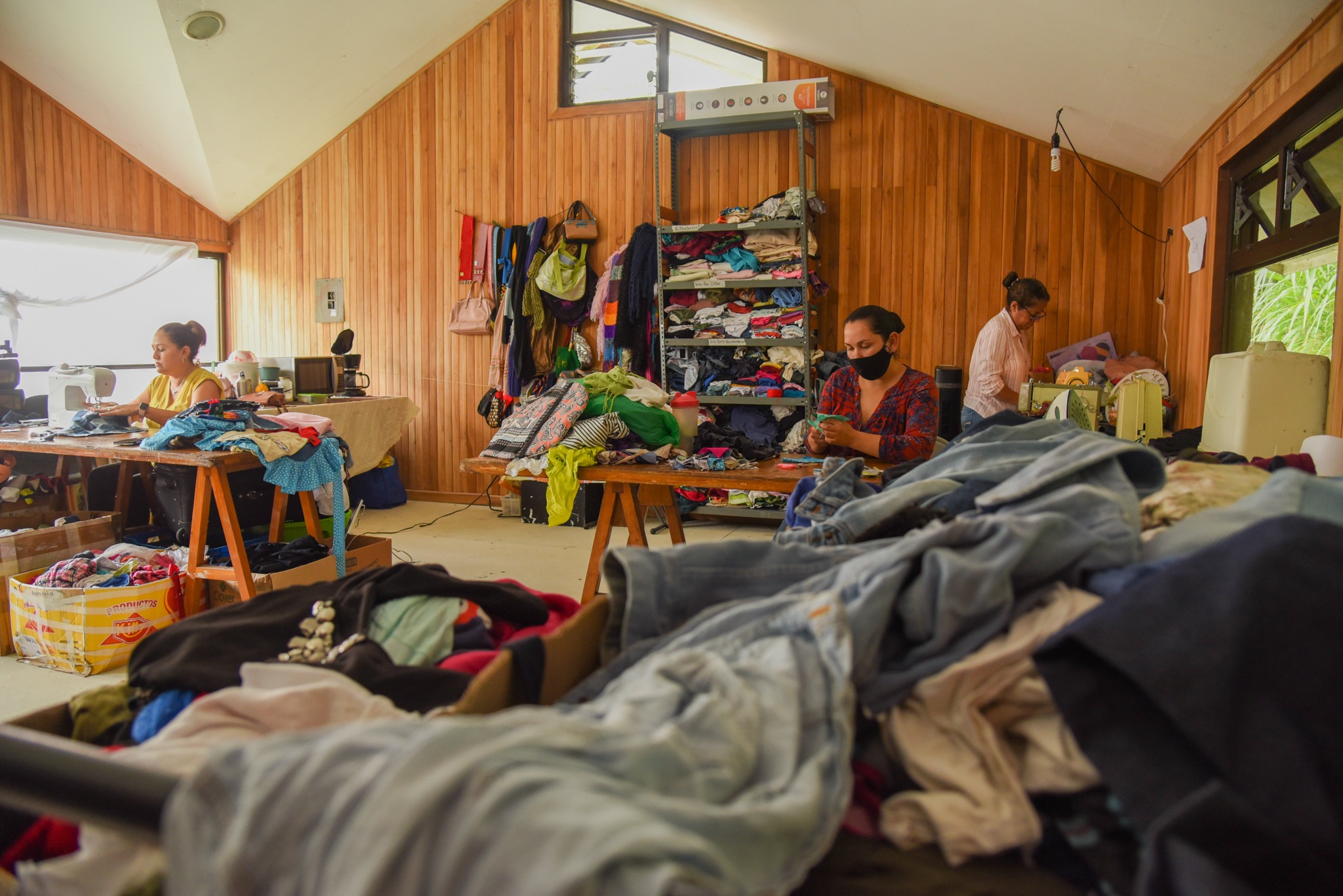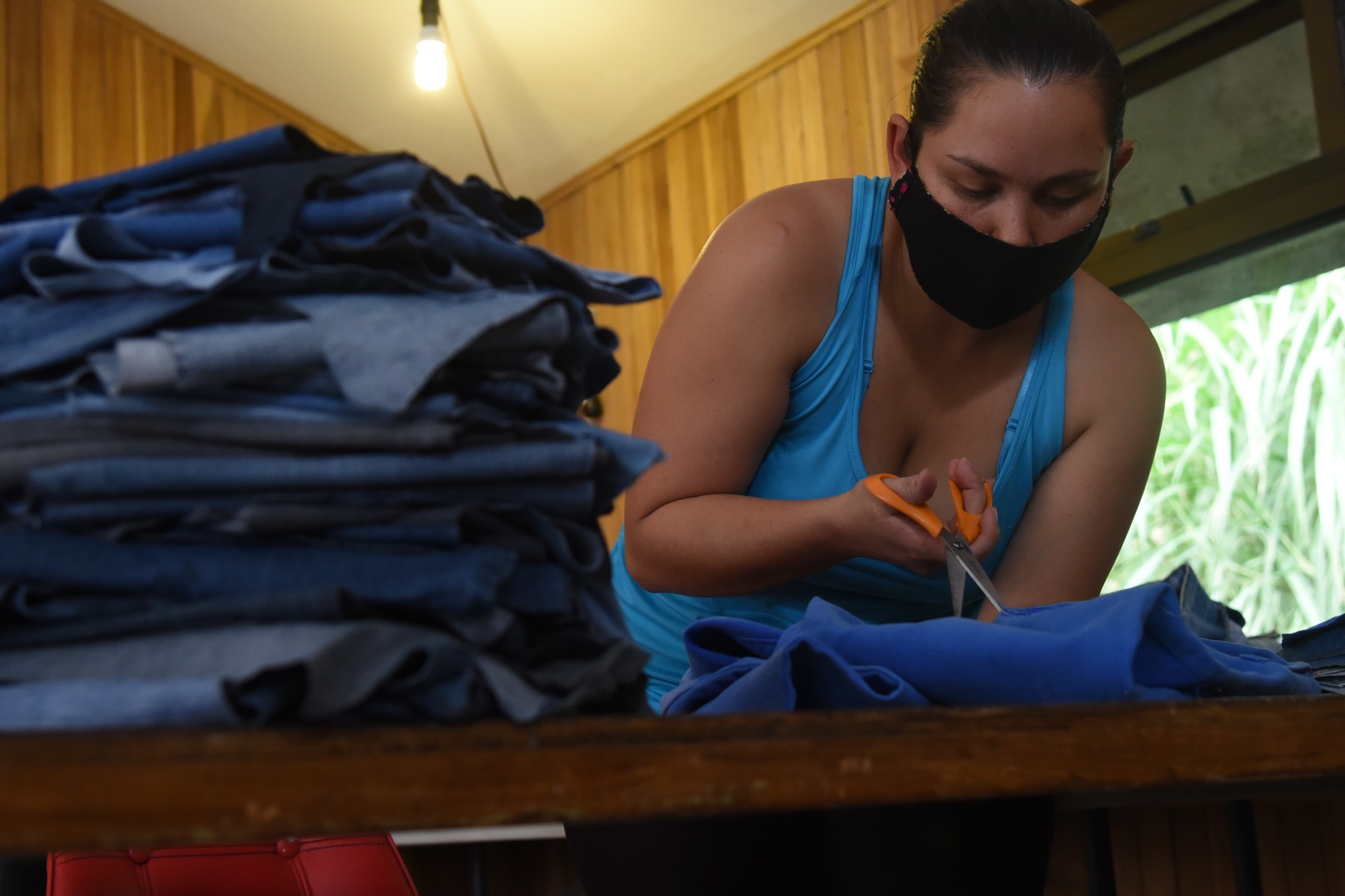 Normally, Elizondo would host exchange students in her home to pay for her two kids' tuition, but the pandemic took away that opportunity. Now, she spends time in the workshop upstairs sorting through cast-out items and reimagining what those items can be. She said her favorite part of the project is seeing people happy.
"What is garbage to someone is a treasure to others,"􏰊 she said. "We're giving items a second life."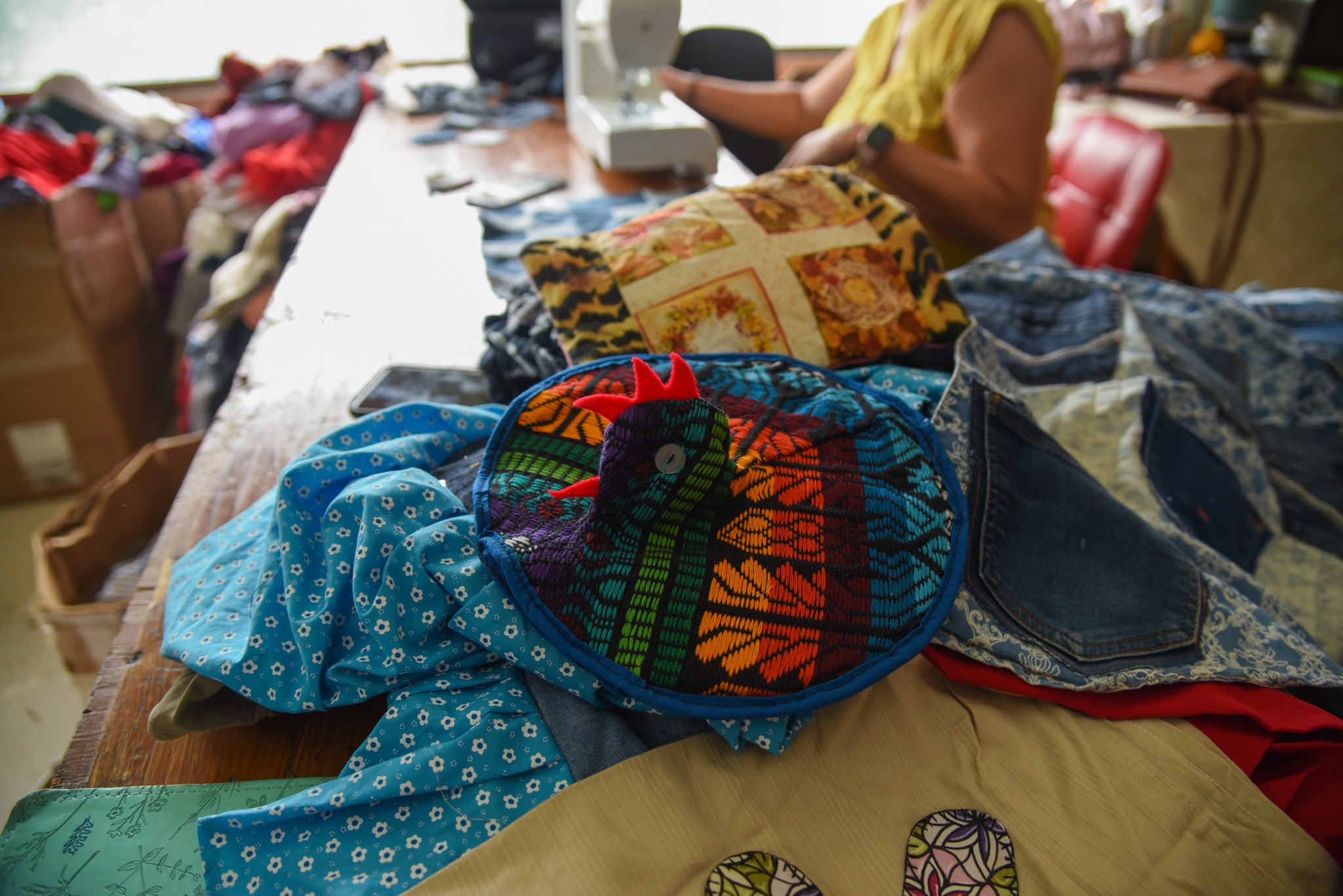 A brown and black staircase spirals upward to the second floor, called el taller, or the workshop. The big open space springs to life from the colorful clothes that spill out of the boxes and shelves. The room is split into two sections. 
The front half functions as a big closet where donations and new arrivals can be sorted through and organized. From there, depending on the quality of the items, they will either go downstairs to the store, on a shelf upstairs in wait or to the other half of the room. The back half of the room has a few tables with a few sewing machines surrounded by organized piles of different clothing types. This part of the store is what Shannon Smith calls stage two.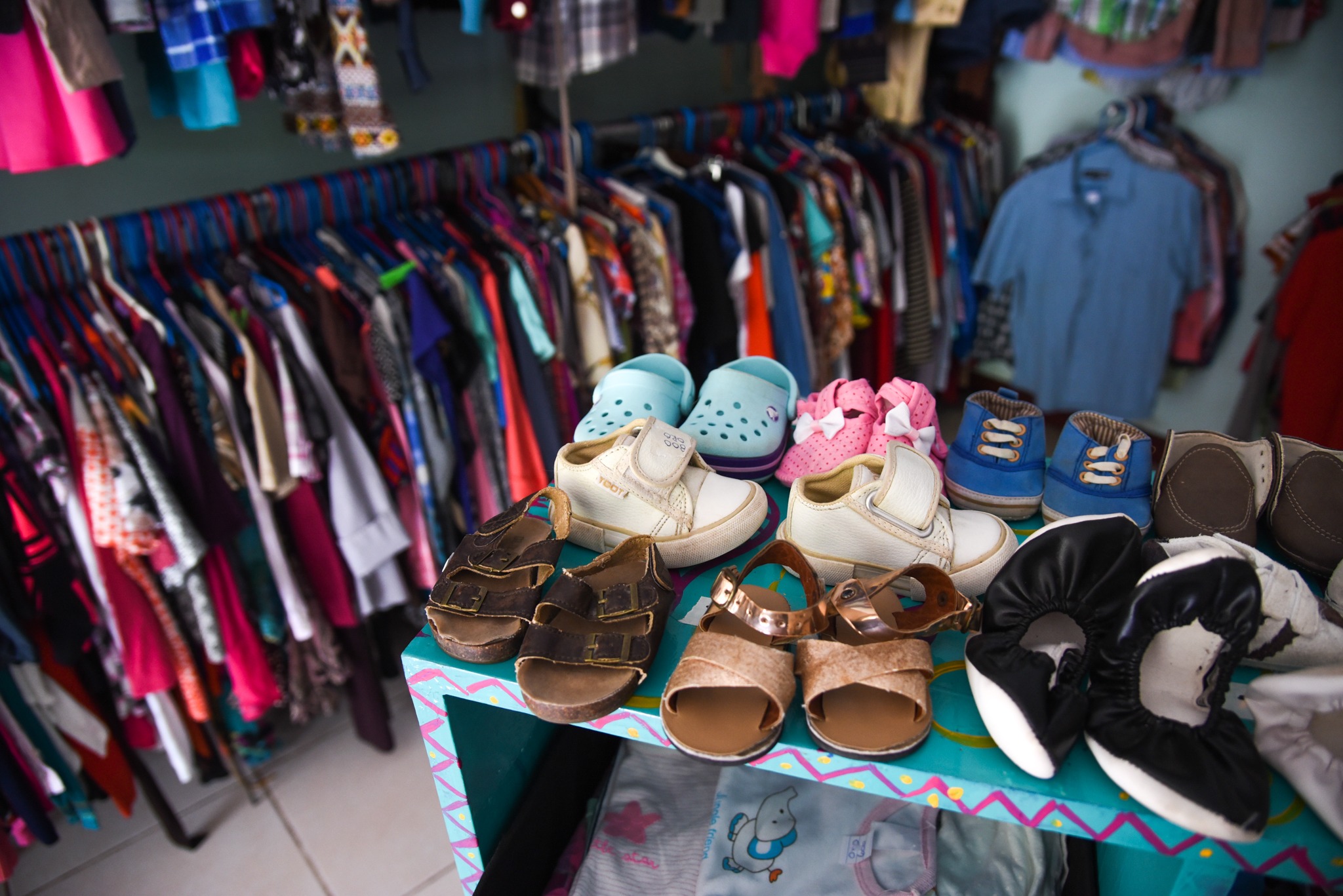 While stage one of the project focused on creating the store and getting a clear system of trade going, stage two is focused on making the project more financially independent. Right now, the women are paid through an internship program that waives their kid's tuition, the lights and building are provided by the local municipality and the rest is funded by Corclima. In the future, the women hope that what they create in the workshop can be sold to pay their bills, while simultaneously keeping things out of the landfill, extending product lifespans and educating consumers.
"What happens in el taller is that we upcycle a quality line of products that can be sold in a traditional economy," Smith said. "With those funds, we would then be able to fund the whole project. So you then get a community resource program for managing things people don't want to deal with in their households or would end up in a landfill. It also gives access to vulnerable people in the community without the need for a traditional economy."

Something that influenced Smith during the process of creating the Tilichera was a book called "Cradle to Cradle: Remaking the Way We Make Things," which discusses giving a product an endless life cycle instead of the current cradle-to-grave linear timeline. The idea is that products should be an eternal resource, not made to be thrown out. It's a call to action, to change the current fashion system to resemble a more natural and healthy cycle. If products are created with the intention of caring for their life cycle, they can biodegrade and provide biological nutrients instead of toxins.

Before anything becomes a product, it is first a raw resource that is extracted, processed, woven into textiles and finally sewn into clothing. Cradle to cradle philosophy aims to work with the environment instead of against it by creating products from the beginning that aren't synthetic or made to be thrown away after the latest fad goes out of style.
Smith said that we have to redefine how we think about our economic system and what we value. A big part of Tilichera's mission is to educate. Each item they make upstairs will have a tag on it that says things such as "This product is 100 percent organic and can be composted," or "We will buy this product back please don't dispose of it."
"Maybe for my generation, pollution will be less harmful, but for future generations, my decisions today are really important," said Elizondo. She said there is plenty of stuff that already exists, people don't need brand-new things. "Instead of going to the landfill where it pollutes the environment, it can have a second life," she said.
Elizondo, Vega, Smith and the other women who run the project have accepted a mission of inspiring their customers to reinvent the things they own, to purchase responsibly and ethically and to create a larger conversation and awareness of the harms of the current fashion industry model.
"It isn't as superficial as 'tax the rich.' You have made a product. You are responsible for the whole lifespan of that product," Smith said. "You aren't allowed to do business in the world any longer and not be completely responsible – from the birth of the idea to where the elements to create the product come from, how it gets to your consumer and then what the consumer needs to do to dispose of it. If you're going to produce something, you owe that to the planet. There isn't a project I'll work on going forward that doesn't have that thought process ingrained into it."